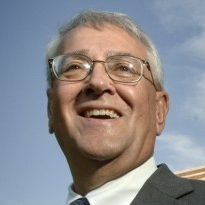 Ronald P. Sexton
After dedicating more than 30 years to higher education, Dr. Ronald P. Sexton retired as chancellor of MSU Billings in August 2010. In honor of his retirement, the Heads or Tails game during the 2010 Wine & Food Festival's live auction was used to create an endowed scholarship in his name. Keeping education affordable was always a goal of Dr. Sexton. Known for his deep and abiding empathy for students who struggle financially, Sexton hated to see a promising student forced to halt his or her educational journey because of inability to pay tuition. Despite his global view and enormous administrative responsibilities, he never lost sight of the needs of individual MSU Billings students. Sexton's distinguished career at MSU Billings was one of learning, teaching, service, and engagement. His involvement began in the mid-1950s, when he first attended Eastern Montana College as a student, going on to earn his bachelor's and master's degrees here. Shortly after earning his Ph.D., he returned and began his now legendary tenure as professor, administrator, and 15 years as chancellor of the university. While chancellor, Sexton ushered in many positive changes. Enrollment grew to well over 5,000 and program offerings expanded from strictly on-site classes to include online delivery of 17 academic programs that reached every county in Montana as well as other states and countries. Through Sexton's leadership, MSU Billings developed community partnerships to boost educational access and success for adults, teenagers and underserved populations on the community. His leadership and participation helped the university's first-ever comprehensive campaign, "People, Pride and Promise: The Campaign for Excellence at Montana State University Billings," raise more than $30 million. We salute Dr. Sexton for his vision and leadership.
The first scholarship in honor of Dr. Ronald P. Sexton, the Ronald P. Sexton Endowed Scholarship, was awarded in academic year 2012-2013.
Sexton was also instrumental in the establishment of the Billings Community Opportunity Scholarship.
Impact
"I wanted to write to personally thank you for the Ronald P. Sexton Endowed Scholarship. I was fortunate enough to have received your scholarship last year and am grateful to receive it for a second year. This scholarship is greatly appreciated and will make a difference in being able to afford my tuition… Again, thank you for your scholarship and for recognizing my achievements!" — JD H., Business Finance major